I'll start out by saying, over the last ten years, our company has gone through three iterations of splash pages – and as I'm writing this, we still don't have a "full" website. TEN YEARS, wtf, right?! Well, just wait before your mind wanders too far. There's a story behind the reason why, and yes, it has taken us some time to tell it. In our case, the absence of a website is a direct reflection of who we were then and who we are today. We will finally have a more robust website this year and for the first time, our team, united, recognizes the "need" for it.
…know the difference between "wanting" and "needing" a website.
Before I jump in, if there is one thing I hope you walk away with, it's this: you know (and are able to identify) the difference between "wanting" and "needing" a website. Thus, making it obvious to know when creating a website is right for you.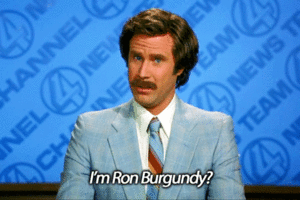 In the beginning, we were questioning who we were… I mean really. We've learned a ton since the inception of the company. The journey has definitely had its challenges and one of the biggest, which has played a role in the story of our website (or lack thereof), was figuring out who we are. Even after a few years, we were still learning about ourselves, our goals, and our mission. If you're interested in the full backstory, check out what Casey Telger had to say about "The Journey Thus Far." In short, most would say we made it incredibly hard on ourselves. We threw all the chips up in the air – I mean ALL of them. We didn't make any assumptions about the way a business should or should not function. We were intent on being creative in all aspects of what we were doing. We didn't have any real structure, basically zero hierarchy and we strived to not compete for work against our local friends in the field. Oh, and also, life happened… Bill Murray once said, "Be available for life to happen." Pretty great reminder.
Fast forward to today and a lot has changed. We've finally curated our core values, brand positioning, and design principles. We've honed in our focus, allowed for genuine relationships with clients to grow that we dearly love and appreciate, and most significantly, we've established a close network of partners and contractors; people that I can call some of my best friends. Without each and every one of them (including partners, such as Indigo Life, and people, like Joe Harrison), I am absolutely certain we would not be where we are today.
Even local companies in our industry have been willing to impart their knowledge and experience upon us throughout our journey. We've had the pleasure of talking to Ben Callahan from Sparkbox a couple of times, and their Build Right: Maker Series has been dynamite! Through these workshops, we've become big fans of Dan Mall (check him out!). Our friends at The Scenery have been there for us several different times and throughout the years, have inspired us to make decisions that have impacted where we are today. And let's be honest, their Gusto recommendation for payroll was dynamite!
I remember some years ago, Andy Rossi, from The Scenery, said to Casey and I, "One of you is going to need to dive into it [web development] …" At the time, our backgrounds were mostly in high-level design execution, creative direction, marketing and brand development. I did dabble with some code and even worked at a digital agency as a front-end designer creating basic HTML and CSS, however, it was still somewhat foreign to me. At some point, a year or two later, we finally took Mr. Rossi's advice. I took the deep dive into the big, ever-expanding "web of things." I leaned heavily on Treehouse, an online training tool for learning about the web, coding and design. And I cannot say enough about the "A Book Apart" collection and how helpful it has been.
…the first step in creating a website is making sure you know who you are as a company.
Though it has taken us years to get to this point, and has admittedly taken others much less time, I would not change anything about the path we took. For me, it has so much to do with the relationships that we are intentionally growing every day. It's been an incredible ride and after all that has happened, I can't help but feel like every single one of us is connected by some sort of universal thread.
All that backstory is a roundabout way of saying, regardless of how long it takes, the first step in creating a website is making sure you know who you are as a company. There are practical steps to get there and depending on your priorities and goals, the pace at which you do it is entirely up to you! Below is a list of items to work through as you begin diving deeper into discovering who you are as a company:
Research Industry & Competitors
Identify Target Audience
Create Core Values (checkout the book "Traction" by Gino Wickman — the first few chapters help a ton and simplify this task)
Create Client (aka Buyer or Customer) & Brand Personas
Determine Brand Positioning
Perform Keyword Analysis
Create Company Name
Determine Primary Messaging
We love collaborating with companies through these early stages. It's actually preferred. Regardless, if you come to the table with these items, we'll know it's time to create a web presence for you.
Some of you may be wondering, "Ok, so like, why don't y'all have a website today?" In ten years of being in existence, I can honestly look back and say, "It wasn't time." Our priorities as a company were shifting too much and too fast. It wasn't until 2013, when we met Gerrad Wise, an amazing design lead, whom begin to pave the way for other designers. He brought focus in a way we couldn't at the time. This continued on when we met our good friend, Chris Hahn, in 2016. His tenacity and unwavering ability to keep dreaming was the fuse we needed in order to take our digital focus to the next level. And across the last five years in business, we begin to attract truly amazing people such as Savannah Rank, whom started working with us as a UX Designer and then moved into a Strategy Lead role. I cannot stress enough how important is to stay connected to your community and continue to find the right people to collaborate with! You will always need to keep a pulse on these things.
…start simple with your online presence.
So, remember those iterations of splash pages I talked about early on? Well, it wasn't because we didn't "want" a website. Let's be clear about something, I am not saying a splash page or a one-pager isn't a website, but as a digital branding agency, it's hard to look across the table at a potential client and say we build websites and not have an intentionally thought-out website ourselves, right? It didn't seem to matter to most people at the time. We, surprisingly, kept getting work. This was either because it wasn't time for us to have a full website and we were still able to build trust with people or well, we were the luckiest people on earth. No, we didn't win the lottery and no, we didn't have an investor or financial support. Sometimes it pays off to just start simple with your online presence.
The point to remember here is that no matter what industry you're in, building your team may be a higher priority at first, than building your website. As you're ramping up, it's ok to start small with a splash page or simple one-page website. Our experience and relationships proved this to be true for us.

Two things come to mind in thinking about our journey with creating our website: you will always be busy and be sure to practice what you teach. The latter may not seem as applicable to you if you're not a creative agency, but it's insightful. Let's unpack these for a brief moment.
If it's a priority, then you'll make it a priority, no matter what is going on
As a business owner, technical lead, marketing manager, CEO or a contractor, let's agree to not fool ourselves: WE WILL ALWAYS BE BUSY. I believe it's in our nature; the desire to remain busy (that's a conversation over coffee). That said, it truly comes down to how intent you are on paying attention to your priorities. If I have an employee who needs to talk about a time-sensitive issue they are having, but I had the whole day scheduled out. What will I do? Just because we are fortunate to have all of this work, what if we aren't taking time to work on personal growth or marketing for ourselves? What does this mean? The thing to remember here is, we can always justify and seek out reasons for why we are too busy to do something. If it's a priority, then you'll make it a priority, no matter what is going on. Bottom-line, ask yourself the question, am I making this an excuse to avoid something or is it because I'm currently being asked to remain steadfast in what I'm focused on? There's a fine line, but only you will know the honest answer to that question when you ask it. For us, it was clear we needed to remain focused and even though we desperately wanted a "full" website, we were doing just fine with a splash page. Note, if you are a product or software company it's more likely you will need to create a website (or at least tie into some kind of digital presence) much sooner than say a service or consultancy company who could start with a one-pager.
The second of these two things, practice what you teach, is not a foreign concept for most and yet, it's still so easy to forget. I'm very proud of our team and the time we've spent ironing out our ability to create a kick-ass website these days! Our process, from start-to-finish, has truly worked for our clients and we will continue to polish and refine, I'm sure. New things will come along and we will be asked to adapt. It's unavoidable when working in the digital space. Yes, it has taken us a while to find ourselves needing a website, but in doing so, we've actually been following the steps we take in every website project. Yes, each project is unique and we end up finding the path right for the client. BUT! It's important to have a guide to getting started, whether you are creating a completely new website, refactoring your current site, adding a new feature or rebranding.
So to summarize, recognize that you will always be busy and establish a trusted creative resource or partner early in the process that will help guide you along the way as your company grows.
Now and Later (No, Not the Candy)
The truest answer for when it's the right time for you to create your website is "now and later". Meaning, you need to seriously consider having some form of a digital presence online immediately upon forming your company and understanding who you are. Whether it's a templated site through Squarespace, a simple one-pager or at the very minimum, a company Facebook page, take advantage of the tools around you to get a digital presence up now. Again, understanding who you are as a company is one of the very first things you (and your website partner) will need to know. This will impact what platforms and tools you use in the very beginning of establishing an online presence for your company. There's no reason to stress about this. If you need some help, just let us know! It's very unlikely we will know as much as you do about your service or product, however, we can ask the right questions at the right time and guide you along the way.
I say "later", because at some point, you'll know when it's time for a "full" website and ideally you'll have a creative partner able to guide you along. The number one reason why it's finally time for us to have a more established website is because it's time for us to grow again. Personally, I'm ready for this next chapter. As a company, it's being asked of us, both internally because of our goals and externally in showcasing our credibility to trusted partners and clients. And as a team, we are finally prepared.
…we will not assume you need a website even if you ask for it.
Just remember, things like doing the research, planning and creating a business strategy should all come before you even finalize a name, much less choose a domain and create a website. Without these items you can be certain you are not ready for a website. This may seem counterintuitive coming from a guy who creates websites for a living. Some will jump at the opportunity to build the biggest, raddest website they can right out of the gate, but we've learned this can lead to a major waste of time and energy. Ultimately, we are much more interested in impacting our client's business success and supporting their marketing goals. We want to grow with the companies we work with. So, yes, we will not assume you need a website even if you ask for it. You're reaching out to us as the expert in our industry. You wouldn't tell an auto mechanic or a doctor what to do, right? There have been times we've recommended that companies don't spend their money on a full-blown website out of the gate. It's not uncommon for us to start with things like brand positioning and messaging if these are not already prepared.
Want to find out if you are ready for a website? Take a peek at this quick checklist. If you have all of these completed and are ready to start, or are ready to enhance or rebrand your existing site, let's talk! I do like me a good local beer. Seriously though, if you have any questions, don't ever hesitate to reach out. That's why we're here.
YOU READY TO START YOUR WEBSITE?
Let's dig in together and discuss the best path forward.